This is an old revision of the document!
---
events, news, announcements
Fri 30 Sep/Sat 1 Oct

Action Suited to the Word, a conference in memory of István Géher and Géza Kállay
Mon 25/Fri 29 April
Tue 12 Apr, 15:00–16:30

BRaCeLeT talks #12: Iva Kovač (Vienna): Agreeing to control
Wed 6 Apr, 17:00

Introducing Encounters of the Popular Kind: Traditions and Mythologies, a collection of essays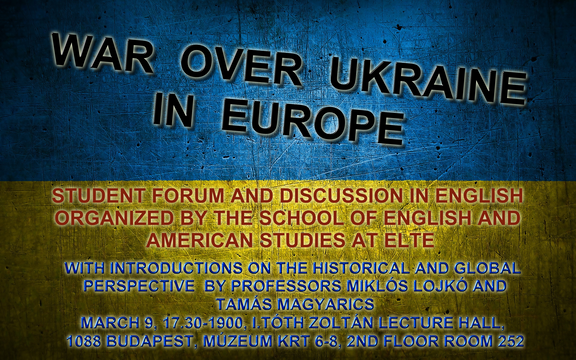 Wed 9 Mar, 17:30–19:00

student forum and discussion on war over Ukraine, Múzeum krt. 6–8, 252
2021
Fri 17/Sat 18 Dec

Össznyelvész 2021, conference in linguistics organized by BRaCeLeT/NYEKK
Thu 2 Dec

Zsófia Bán receives the Füst Milán Prize for Prose. Congratulations to our colleague!
Tue 23 Nov, 18:00

Work In Progress Special (in Hungarian ): About Anne Sexton's poetry — recently translated into Hungarian; a conversation with the translators of the poems
Tue 9 Nov, 18:00

book première: Natália Pikli, Shakespeare's Hobby-Horse and Early Modern Popular Culture; introduced by Eglantina Remport, hosted by Zsolt Komáromy; in D126 (1088 Budapest, Múzeum körút 4)
Wed 3 Nov, 17:00–18:30

the first meeting of the Budapest Metaphor Circle: Zoltán Kövecses, Anger in a New Light (followed by an informal discussion) in Kari Tanácsterem, Building A (1088 Budapest, Múzeum körút 4)
Sun 19 Sep

Zsófia Bán is awarded the Spycher: Literaturpreis Leuk. Congratulations to our colleague!
Fri 17 Sep

The Reel Eye '21, film festival and workshop
Thu 2 Sep
Sat 24 Jul

Megtörtént. Minden szó igaz, a book by our late colleague, Judit Zerkowitz
Thu 24 Jun, 14:00
Fri 4 Jun, 9:00–16:00
Tue 11 May

apply for teaching assistantship at DELG, deadline: Sun 27 Jun
Mon 3–Fri 7 May
Mon 19–Fri 23 Apr

Infosztrájk: getting informed about and discussing academic freedom
Wed 17 March, 16:00

A gótika kikel sírjából by EASPop (English and American Studies Popular Culture Research Group)
2020
Tue 17 Nov
Tue 27–Wed 28 Oct
Tue 13 Oct, 14:00–16:00

The Department of English Applied Linguistics of Eötvös Loránd University invites all who are interested to the on-line closing event of the Erasmus+ project entitled "Language Skills of Deaf Students for European Mobility" carried out in collaboration with Czech, Austrian, and British participants. The program includes the introduction of the project and the presentation of the research findings of the Hungarian team. This will be followed by the experience reports of Deaf participants about their process of learning English and the project outputs they participated in. The event is going to conclude with a question and answer session. Venue: MSTeams, register at wein.kata@btk.elte.hu. Sign language interpretation will be provided. All are welcome!
Fri 9 Oct, 17:00–18:30

FORDÍTSUNK! – Mesterek hibái – modern versfordítások angolból, Nádasdy Ádám és Horváth Viktor műhelybeszélgetése, Magvető Café, VII. Dohány utca 13; a Fókusz Könyváruházon (Rákóczi út 14) át egy kis folyosón keresztül is megközelíthető
Sat 3 Oct, 18:00–18:30

SEAS members on solidarity walk out to SZFE
Thu 1 Oct, 14:00
Tue 29 Sep, 18:00–20:00

Shakespeare-ünnep (on Facebook), Magyar Shakespeare Bizottság, Dobos Dániel és zenekara, Nádasdy Ádám, Szőnyi György Endre, Dicső Dániel, Schiller Mariann, Reuss Gabriella; D nagyelőadó
Tue 22 Sep, 18:00–19:00
Tue 22 Sep, 18:00–21:00
Tue 22 Sep, 16:00

ELTE BTK trade union (PDSZ) on a solidarity walk out to SZFE (pic)
Tue 23 Jun, 10:00
Wed 3 Jun

Our colleague Judit Zerkowitz passed away this morning, aged 74. Requiescat in pace.
Wed 22 Apr

Ádám Nádasdy wins the Aegon Literary Award 2020. Congratulations to our colleague!
Wed 4–11 Mar
Thu 6 Feb, 9:30–17:00

The Reel Eye, film festival and workshop ⟦programme⟧
Thu 6 Feb, 15:00

Tibor Frank, A polgári érintkezés modernizálódása a 19. században. An inaugural lecture at the Hungarian Academy of Sciences (MTA, Felolvasóterem, 1051 Budapest, Szécsenyi István tér 9)
Tue 4 Feb, 15:00–17:00

SEAS Think Tank 2
Fri 24–Sat 25 Jan
Wed 1 Jan
2019
Wed 18 Dec

referee's reports are available in department offices, get it, look at it before the defence
Thu 12 Dec
Fri 29–Sat 30 Nov

conference on US Politics and the Media, programme
Thu 28–Fri 29 Nov

conference on Margaret Atwood 80: Central European Interpretations
Fri 15 Nov

Győző Ferencz has received the József Ürményi Award in recognition of his excellence in teaching, Zsuzsanna Kutasi has received the Ferenc Barkóczy Award for her outstanding work as a librarian (pictures). Congratulations to both colleagues for their achievement!
Fri 8–Sat 9 Nov
Thu 7 Nov, 13:45–15:15
Thu 10 Oct

SEAS elections (for Faculty Council and for Institute Council)
11:30–11:45: nomination (R414)
12:30–16:00: voting (R357)
Thu 3 Oct, 18:00

Seamus Heaney memorial lecture (at MTA, Szécsenyi tér 9, 2nd floor)
Thu 3 Oct, 17:00
Wed 25 Sep
Fri 20 Sep
Thu 12 Sep

BRaCeLeT talk series #11: Markus Pöchtrager (UniVienna), Recursion and GP 2.0
Tue 10 Sep

BRaCeLeT talk series #10: Markus Pöchtrager (UniVienna), Towards a unified theory of vowels
news.1648915380.txt.gz · last touched 2022-04-02 18:03 by Péter Szigetvári
---